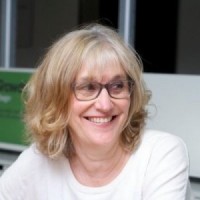 Kathy MacEwen
I have been making collage for fun for a very long time. It started out as something to fit in around a professional life in the built environment (see more at my LinkedIn page) Now its about making greeting cards that explore the possibilities of collage – the colour, the patterns, the unexpected.
I have created a gallery of cards that express my love of juxtaposition and shapes and colour. My first range is all about teapots and jugs, abstract shapes and vases of flowers, with a few happy birthday cards as well. All the cards are handmade and scanned to create a unique and colourful range. All are blank inside.
I started out going to art school at Central School of Art (before Central St Martins was formed) for a foundation year and then to Winchester to study Sculpture. After a short time I changed tack and studied urban and regional planning.  Then on to lots of other things, all the time making collage cards.
If you want to know more about collage try this link History of collage